LG Hausys Announces Its New Name: LX Hausys
LG Hausys America Inc., an innovative manufacturer of building and decorative materials, is announcing a new company name. Effective July 1, LG Hausys America Inc. has changed to LX Hausys America Inc.
According to LX Hausys America President KJ Kim, the change will enable the company to continue to invest in the North American market while retaining its link to the innovative spirit for which LG is known. The name change will not affect customer or business operations. The company's distinct product portfolio will remain in place. This includes its Viatera® and HI-MACS® brands and its flooring products for residential and commercial applications.

Trim USA was recently featured in a WORKDESIGN Magazine article that highlighted LG Hausys BENIF Interior Films.
Trim USA is proud to be the US stocking distributor of LG Hausys' BENIF Architectural and Interior film line. Second to none in the industry, the LG Interior Film line offers over 500 options in the 2021-2022 Catalog PDF. There is truly something for every application you can dream of. As architects and designers reach new heights through discovery of innovation for buildings and upgrades, the sky continues to be the limit for these films. The possibilities for installation are endless, with options to cover walls, glass, furniture, doors, and more.
The catalog index includes Solids, Pearlite, Metal, Big, Classic, Design and Premium Wood, Big Marble, Stone, Leather, Fabric, and Fancy materials. There are even Windeco and Art Canvas options for windows and glass. These glass options not only include the classic frosted alternative, but also other looks that will give your palette a unique design with textured films.
At Trim USA we pride ourselves on our knowledgeable and timely sales and customer service representatives and we look forward to helping you find the best solution for your project. This BENIF architectural film line can help transform any space, old or new. Let us help you define your style and create a masterpiece! Contact us today to find out how we can assist you with a sample, product questions, and pricing. Click on the icons below for Product Selections, which will include color options, or check out the BENIF Collections book 2021-2022 Catalog PDF for a full listing of products or view the older 2019-2020 Catalog PDF (some SKUs may be discontinued, so please check with us if you see an option you prefer so we can check to see if it is still in production).
LG Hausys' BENIF Interior Film is designed for flat lamination and profile wrapping. With its special self-adhesive treatment, interior film is easy to apply not only on flat surface but also on irregular surfaces, saving time and cost. With possibilities ranging from walls, elevators, doors, ceilings trellises and beams, furniture, and more the skies the limit for all the different applications of this material.
► An eco-friendly surface finishing material that puts the health and safety of customers as the top priority.
► A flame resistant product for the protection of lives and property of customers from fire.
► Air-Free film that prevents the formation of bubbles during the construction, extended its application to the whole group of flame resistant and non-flame resistant products.
► Excellent antibacterial effects by adding non-toxic antibiotics.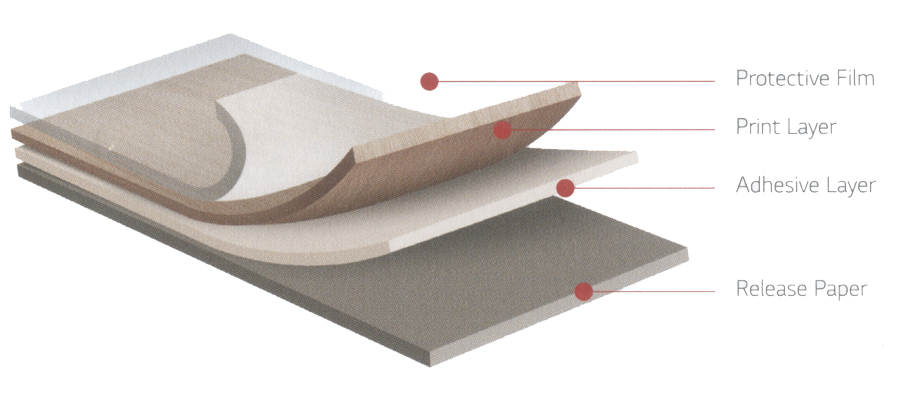 Would you like to know more about the LG Hausys Architectural and Interior film line? View the PDF below to learn more about the makeup, tensile strength, adhesion, and certifications. Plus, see active examples of the material installed in different applications. Don't hesitate to call us if you have any questions or would like more information. You can reach us at 800.642.0959 or sales@trimusa.com.
Do you need Installer recommendations for your project?
As another added benefit to our communication process, we will be happy to connect you to the proper installer to put you on the right track for project completion. We work with a vetted group of certified installers that span the country. We are confident that we can provide you with a recommendation for where ever your next project is.
Collections Book and Online Brochure Downloads